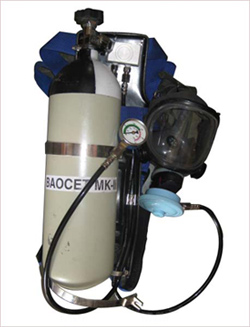 Data Sheet for Breathing Appratus - Safety Equipments
AUTOMATIC POSITIVE PRESSURE COMPRESSED AIR BREATHING APPARATUS COMPRISING OF PA 90 SERIES:- ANTISTATIC BACKPLATE MADE FROM HIGE STRENGTH COMPOSITE MATERIAL HAVING A HIGH DEGREE OF CHAMICAL AND IMPACT
Resistance
HARNESS WHICH ALLOWS FOR EASY FITTING AND REMOVAL
WITH A PRESSURE REDUSER FEATURING A SPARE MEDIUM PRESSURE CONECTION AND SAFETY PRESSURE RELIFE VALVE.
AN ADVANCED PISTON DESIGN ATOMOTIC POSITIVE PRESSURE PUSH IN TYPE LUNG DEMAND VALVE.
A CYLINDER STRAP FOR ACCOMODATING ALL TYPES AND SIZES OF CYLINEDRS HAVING A CAMLOCK ARRANGEMENT.
THE WHISTLE WARNING UNIT IS MOUNTED ON THE LEFT SHOULDER STRAP.
A PRESSURE GAUGE WITH LUMINOUS DIAL CALIBRATED IN BARS.
THE FACE MASK IS THE FAMOUS PAMORANA NOVA PP POSITIVE PRESSURE UNIVERSAL.
NEOPRENE SELF-DEMISTING FACE MASK.
REPLACEBLE VISOR SPEECH TRANS MITTER, LOADED EXPIRATOR VALVE.
SPRING LOADED CYLINDER VAVEL TO AVOID ACCIDENTAL CLOSING.
PROVISION FOR SECOND LUNG DEMAND VALVE CONNECTION .
PROVISION FOR AIR LINE CONECTION.
CYLINDER HAVING 200/300 BAR PRESSURE, 6 LTR WATER CAPACITY DURATION OF 30/45 MINUTES APPROVED BY CERTIFICATE.
APPROVALS : APPROVED TO EN 137, CERTIFICATE NO. 000713 ISSUED BY SGS YARSELY & LLOYED'S REGISTER OFF SHIPPING CERTIFICATE NO. MED 0050313 FOR MAIN APPLICATION QUALITY STANDARDS ISO:9001, BS 5750 PART-I.
CERTIFICATES : CYLINDER CERTIFICATE, CYLINDER VALVE CERTIFICATE & NOC FROM THE DEPARTMENT OF EXPLOSIVE WILL BE PROVIDED WITH THE SUPPLY.
HAND CARRYING CASE MADE OUT OF LLDP MATERIAL WHICH IS LIGHT AND STRONG TO ACCOMMODATE COMPRESSED AIR BREATHING APPARATUS SETS………
Download Catalog